Update 3/27/2020
I discovered the absolutely BRILLIANT work of Arun Agrawal MD that has removed 80% of the concerns various professional groups had with ventilator splitters v1.0. This is a MUST watch video to see a v2.0 ventilation splitting system.
Using a very clever configuration of ball "spigot" valves, one way flow valves, spirometer (to measure volume), manometer/ sphygmomanometer (to measure pressure) and virus air filters (to reduce aerosolization), Agrawal's design allows for patient independent setting of PEEP and either tidal volume or peak pressure.
The design also allows for patient specific monitoring of tidal volume, peak inspiratory pressure, and intrinsic PEEP. The configuration still binds all patients sharing the respirator to the same respiratory rate. However, it allows you to control each patient's peak pressure (or tidal volume) INDEPENDENTLY of all other patients using a "spigot" ball valve. The shared ventilator is run on pressure control mode. In addition, if a patient codes, you can turn off pressure for just that patient without changing pressure on the remaining patients.
With the exception of a $1 "spigot" ball valve (available at any hardware store), all parts are cannibalized from everyday common hospital devices: spirometer, a sphygmomanometer from a pediatric blood pressure cuff, and a PEEP value from a bag valve mask.
To completing patient monitoring, each patient would need their own oxygen saturation and respiratory rate monitoring / alarms. Alarms at the central ventilator would be turned off.
Update 3/26/2020
Several critical care and anesthesia care professional societies released a consensus statement against sharing a ventilator. Their primary concerns are around Covid19 ARDS being extremely difficult to manage and needing a greater degree of patient specific ventilation settings. Proposed splitting designs to date have required that every patient sharing the ventilator have identical tidal volume, peak inspiratory pressure, respiratory rate, and PEEP settings. In addition, if one patient codes, the concern is either turning off ventilation for all patients or aerosolizing the virus.
The FDA revised its ventilator documentation to included design considerations and usage guidelines for Continuous Ventilator Splitters (see Page 4). Their recommendation is for matching of patient ventilation needs and to run a ventilator in Pressure Control Mode to avoid barotrauma.
Meanwhile Prisma Health received emergency approval for their FDA approved ventilator splitter design that can be printed on a 3D printer. They are offering the 3D printer file to any hospital that requests it.
New York City is actively using ventilator splitting due to a ventilator shortage.
Original Article: How to Triple Ventilator Capacity in 10 Minutes
In scaling up the medical infrastructure to handle the surge in COVID-19 patients, one of the critical capacity constraints is the number of ventilators available. To date, the focus has been on acquiring more ventilator devices. While this does make sense, it will take time to manufacture such devices.
Let's look at this problem slightly differently. Instead of thinking of the problem as, "How do we increase the number of ventilators," it makes more sense to define the problem as, "How do we increase the number of patients who can be ventilated?"
Let me explain.
Under normal protocols, these two numbers are the same. One ventilator device is dedicated to one patient. Therefore, the number of ventilators and the number of patients being ventilated are one and the same.
Here's the key insight I've recently come across.
Most full-featured ventilators are set to 25%-35% of the maximum level of air they can move per breath. Most of the device's ventilation capacity goes unused under normal usage protocols.
In fact, most full-featured ventilators have the underlying ability to ventilate up to four patients simultaneously — but they aren't configured to do so by default.
Full-featured ventilators can provide 2,000 milliliters of tidal volume. Tidal volume is the volume of air you can breathe in and then out in a single breathing cycle. 2,000 ml is approximately the same volume as a half-gallon-sized carton of milk.
When you inhale, do you inhale a half-gallon worth of air?
No. Neither do I. Actually, neither do 95% of patients.
So, how much air do you need to breathe?
Well, it turns out that it depends on your weight.
Heavier patients consume more air than smaller patients. That makes intuitive sense. A 250-lb, 50-year-old male doesn't consume the same air as a 1-year-old weighing 20 lbs.
There's a formula for this. For an otherwise healthy patient in need of ventilation, they should receive no more than 10 milliliters of air from a ventilator per 1 kilogram of body weight.
For a patient with lung impairment (such as those with pneumonia, which COVID-19 can sometimes cause), too much air per breathing cycle (or tidal volume) can damage the lungs. These patients should receive 6 – 8 ml per kg of ideal body weight per breathing cycle. To simplify the math, let's call it 7 ml per 1 kilogram of weight.
So, let's do some math to figure out how much air a ventilator can move.
2,000 ml tidal volume / 7 ml per kg = 285 kg combined patient ideal body weight
285 kg x 2.2 lb per kg = 627 lbs combined patient ideal body weight
In other words, a single ventilator can move enough air to support 627 lbs worth of patient with lung impairment.
For reference, the average adult male in the United States weighs 200 lbs. The average adult female weighs 170 lbs.
This means a single full-featured ventilator has the ability to move enough air to support three average adult males or 3.7 females.
So, the constraint here is not the ventilator machine itself, as most ventilators run at only 25%-35% utilization. It is the ability to share a ventilator amongst multiple patients that is the constraint that is hit first.
By allocating one ventilator to one average-size adult male patient, over 65% of the machine's capacity to ventilate is not being used. From a scaling capacity standpoint, this is inefficient.
Now, it turns out that the ability to use a "splitter" to route the air pumping capacity of a ventilator to multiple patients has been studied in lung simulators, animal studies, and used in the field — all successfully.
In 2006, Dr. Greg Neyman and Dr. Charlene Babcock, emergency medicine physicians in Detroit, Michigan, did a study on exactly this. They wondered if, during a disaster-related surge of patients, a ventilator could be reconfigured to support multiple patients. Would it work?
Short answer: Yes.
They used standard equipment found in an emergency room to create a two-way and four-way splitter. They then used the ventilator to ventilate four simulated-lung devices for 12 hours. These devices had several sensors to track the output of the ventilator for each "lung." The data collected showed that the pilot project was successful.
This is the paper they wrote on this technique: A Single Ventilator for Multiple Simulated Patients to Meet Disaster Surge.
This is a video of Dr. Charlene Babcock demonstrating the technique:
Around the same time, Dr. Lorenzo Paladino et al. devised a similar experiment to answer the same question. Instead of using a ventilator to ventilate four lung-simulator devices, they tried out the technique on four human-sized sheep.
They treated the sheep as if they were human patients with lung impairments and breathing problems. The "patients" were sedated, intubated, and hooked up to a ventilator that did the breathing for them.
In short, it worked. The ventilators kept all four "patients" alive for 12 hours. Sedation was turned off and all four patients started to breathe normally again on their own.
This is the paper Dr. Paladino and his colleagues wrote describing their findings: Increasing Ventilator Surge Capacity in Disasters.
For many years, nobody had attempted (or at least hadn't documented their attempts) to use this approach on human patients.
However, that changed on October 1, 2017. On that day, Dr. Kevin Menes was running the Emergency Department at Sunrise Hospital near Las Vegas, Nevada. In the middle of his shift, the deadliest mass-casualty gun shooting in modern American history took place. In the hours that followed, Dr. Menes and his team (and auxiliary staff) would end up treating over 215 penetrating gunshot wounds… in seven hours. (If this isn't the definition of a hospital overwhelmed, I don't know what is.)
As you might imagine, major blood loss impaired many patients' abilities to breathe and get enough oxygen circulating with whatever amount of blood remained in their bodies.
As the surge of patients flooded the Emergency Room, the hospital had run out of ventilator machines. (Sound familiar?)
In his own words, here's what Dr. Menes did…
"…the respiratory therapist, said, 'Menes, we don't have any more ventilators.' I said, 'It's fine,' and requested some Y tubing. Dr. Greg Neyman, a resident a year ahead of me in residency, had done a study on the use of ventilators in a mass-casualty situation. What he came up with was that if you have two people who are roughly the same size and tidal volume, you can just double the tidal volume and stick them on Y tubing on one ventilator."
You see, Dr. Menes had trained in the same hospital as Dr. Neyman and was familiar with his experiment using a splitter on a ventilator.
You can read Dr. Menes' personal account of that night here: How One Las Vegas ED Saved Hundreds of Lives After the Worst Mass Shooting in U.S. History.
Now, there are several issues with using splitters with ventilator machines.
1. Using a splitter is a non-standard, "off-label" use of the device. It's not a normal standard of care. Hence, all the studies have suggested such a configuration would only be used in a mass-casualty situation (which is defined as when you have more patients than you can handle). If we're not at a mass-casualty situation yet, we are certainly on our way there — especially in certain regional COVID-19 hot spots in the United States.
Dr. Babcock proposes the following approach to navigating this issue. To paraphrase, if I have one ventilator and four patients, here's what I would say to the four families, "Your loved one needs this machine or he/she will likely die. I can pick who gets it, allowing three of your loved ones to die, or you can share the machine. What do you want to do?"
(I suspect that, when faced with the choice of a 75% chance of certain death versus sharing a ventilator, most people would be fine with sharing.)
2. Sharing a single ventilator does create a risk for cross-contamination. You would not want to share a single ventilator between three COVID-19 patients and one non-COVID-19 patient. Such usage would very likely cause the non-COVID-19 patient to be infected. However, if all four patents are already infected, then this risk is mitigated.
3. Grouping patients requires similar tidal volume needs. All two or four patients sharing the ventilator must have similar ventilation needs. When one ventilator is assigned to one patient, the ventilator settings can be adjusted to meet the single patient's needs very precisely. When two or four patients share a ventilator, you use a single setting for all patients. This means you want patients of a similar body weight (as this determines the volume of air they need per breath). You also want patients with similar degrees of lung impairment as the breathing capacity can vary significantly based on this trait.
4. Patients need to be placed in close proximity to the ventilator, but ICU rooms aren't designed for that. I've only been to the intensive care wards at two hospitals — one community hospital and one research hospital (UC San Francisco). These wards are designed to prevent infection between patients. As a result, each patient has their own room or at least their own alcove (a room with three walls, with the fourth wall "open" and visible to the nurse's monitoring station).
In other words, you can solve the ventilation problem, but now you have a "real estate" configuration problem to solve.
Let me discuss this fourth issue in more detail. One of the principles of scaling up operations to meet surges in demand is to remove the point of greatest constraint in your system. In the case of COVID-19, ventilation capacity is one of the top constraints. Using the splitter solution, ventilation patient capacity can be increased between two to four times without any change in the number of ventilation units.
However, every time you fix the greatest constraint, you will suddenly discover the second greatest constraint. In the case of scaling patient ventilation capacity, the new constraint becomes "real estate," or floor space.
Standard intensive care unit configurations (at least the ones I've been to) aren't set up to group two to four really sick patients together. The premise has always been to separate them. While solving one problem (patient ventilation capacity), you create another problem (suboptimal floor space configuration).
However, you're ahead of the game if you trade-in a major headache for a lesser headache.
In this case, the number of ventilators in the country is more or less fixed in the short-term. However, we have more "real estate" available to us than ventilators. So all else being equal, I'd rather have a solvable "real estate" problem than a ventilator shortage problem. That said, someone still has to go figure out how to solve the "real estate" problem.
5. Legal Liability — It would be extremely helpful if this approach could be validated further in the field and receive an expedited approval, or at least some kind of crisis waiver from the FDA, to use ventilators in this particular way. Until then, it would make sense for hospital general counsels to start drafting "Consent to Treat" forms for this non-standard ventilation usage — just in case things get so bad that doctors and nurses need to use it. This kind of scenario is entirely anticipatable and, when running fast-moving operations of any kind, you want to solve the anticipatable problems early so that your top talent only has to deal with the unanticipated problems.
6. Developing a Three-Way Splitter — All the academic studies and field experiences have either split the air from a ventilator to two or four patients. This is because standard equipment available in an emergency room allows for these configurations. However, since a single full-featured ventilator can ventilate patients with a combined weight of 627 lbs, we could get more efficient capacity utilization with a three-way splitter. For example, a three-way splitter could allocate 627 lbs worth of patient ventilation capacity to three patients weighing approximately 209 lbs or less. The average adult male is 200 lbs. This would serve even more patients than ventilators that only use a two-way or four-way splitter.
7. Scalable Knowledge Transfer — Someone from the National Institutes of Health, Centers for Disease Control and Prevention, Department of Health and Human Services, and state-level health boards should each be contacting Drs. Neyman, Babcock, Paladino, and/or Menes to more precisely document their collective knowledge, write down what they recommend regarding this protocol in specific detail, and disseminate such knowledge to all the hospitals in the country.
Hopefully, things don't get so bad that we need to do this. But, hope is not a plan. We should prepare by forwarding knowledge of these techniques to those who need to know. This is an essential part of increasing critical-care capacity (a.k.a. "raising the ceiling") in our country.
COVID-19 moves fast. We need to move faster. While publishing in peer-reviewed journals is the gold standard for introducing protocol innovation in the healthcare field, we do not have the time. In a crisis, perfection is the enemy of good enough.
My goal in writing this article is to bring attention to the findings of Drs. Neyman, Babcock, and Paladino that have since been proven in the field by Dr. Menes. My hope is that others can build on and improve upon their work and have back-up options if we do run out of ventilators. I would appreciate it if you would pass along this message to as many people as possible — especially those who are experts in the medical, intensive care, emergency care, or government health industries.
Update 3/18/2020 9:20 am PT
8. Optimal for One vs. Suboptimal for All — One issue is that a ventilator's settings are usually tailored to a specific patient's vital signs. What happens if one patient needs a higher setting that would cause another patient to receive "too much"? In particular, there's a concern around PEEP (positive end-expiratory pressure). This is the amount of air pressure the ventilator produces at the end of an exhale to prevent the alveoli (oxygen exchange area of the lungs) from "collapsing." As I understand, this pressure setting varies from patient to patient and isn't correlated with body weight but more so patient illness status.
The consensus feedback is that this approach clearly isn't ideal (which is why it is not standard practice). There are no studies on long-term outcomes. However, if desperate enough, such configuration could work as i) a temporary solution until each patient gets their own ventilator, or ii) becomes a difficult triage decision: Is it better to treat four patients suboptimally or one patient optimally?
Examples and Field Reports
March 17, 2020: Rural physician Alan Drummond is doing this in Ontario, Canada.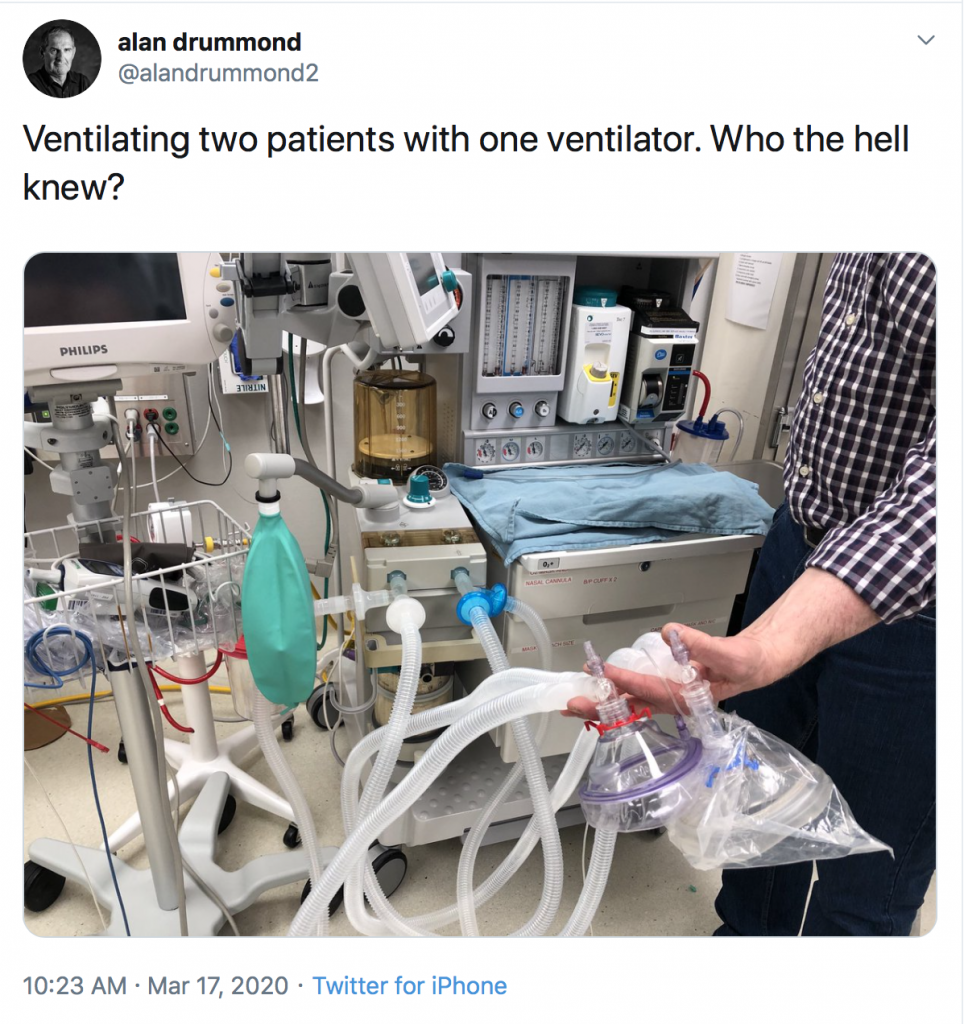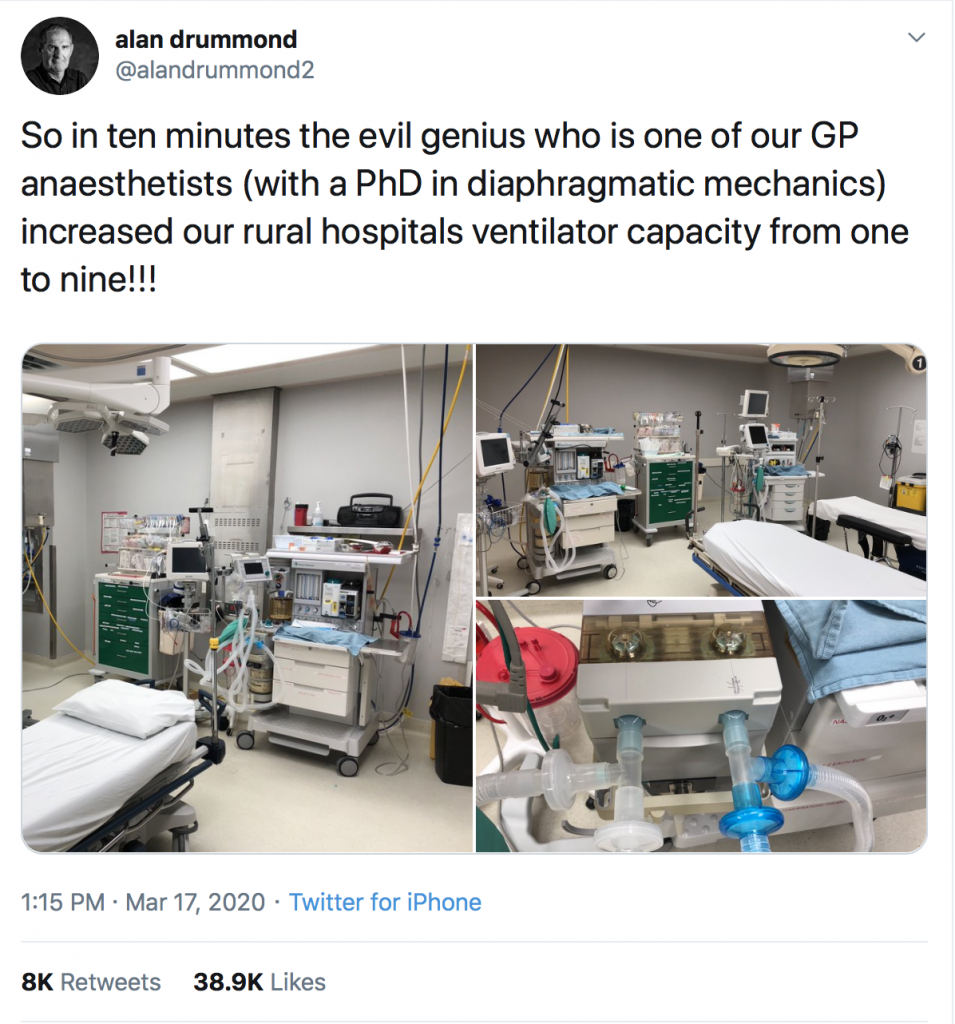 Practical Problems Still to be Solved
Cross-Contamination — In running this concept by various individuals, the concern about cross-contamination keeps coming up. One executive at a major healthcare company suggested that the problem could be easily solved with a one-way value made of anti-microbial materials in combination with an anti-microbial air filter on the ventilator's air intake port. I gather such a filter may not be a standard feature.

Update 3/20/2020 — It turns out that one-way respiratory valves already exist and are available here.

Ventilation Tidal Volume Variance between Patients is too Great — In a research paper, Richard D Branson et al. did a repeat of Neyman and Babcock's simulation and published the ventilation performance for each simulated patient: Use of a single ventilator to support 4 patients: laboratory evaluation of a limited conceptTheir conclusion was that the variance of tidal volume (how much air each patient receives per breath) was too varied. They proposed an avenue worth further exploration that would resolve this problem. In their view, it would make sense to have each patient on a separate or semi-separate circuit. They reference that all patients have two lungs (right and left side). In some patients, with asymmetrical lung damage, it's important to ventilate each lung with different settings. Apparently, this has been done with a single ventilator that splits the pressure produced by the ventilator, but each lung is regulated by a separate control mechanism. They propose that, if such a control mechanism could be adapted, it would eliminate the disadvantages of a simple two- or four-way split.The relevant publications describe using a single ventilator to ventilate the left and right lungs separately with different settings (in particular, PEEP). This same mechanism could, in theory, be used to ventilate two or more patients from a single ventilator with a higher degree of independence.
Josh Farkas from PulmCrit asserts in his article Splitting ventilators to provide titrated support to a large group of patients that such variances in tidal volumes are not ideal but, if done correctly, tolerable. Specifically, he argues that a mild degree of hypoxia (insufficient oxygen) or hypercapnia (too much carbon dioxide in the blood) would be tolerable in a mass-casualty incident.
Update March 20, 2020
In circulating these ideas with various respiratory therapists, professionals, and ventilator manufacturers, others have identified another way to increase intubation (tube down your throat) ventilation. The idea is to use non-invasive ventilators, which are used with a face mask, and hook them up to an endotracheal intubation tube instead. I'm still in the process of compiling the research on this use case.
Researchers Jagdish Rawat et al. did a successful pilot test of this approach: Role of BiPAP applied through endotracheal tube in unconscious patients suffering from acute exacerbation of COPD: a pilot study
I've run this by a respiratory therapist and a few doctors. So far, the thought is that this approach could work in a pinch, but it isn't a conventional configuration and it's unclear how many of these devices are in hospitals. You would specifically need a BiPAP ST — a device that allows the machine breaths to be set to a timer (that's the "T" in "ST") as opposed to mirroring the patient's natural, spontaneous (that's the "S" in "ST") breathing pattern.
Acknowledgments
Thanks to Jaimie Fulton, Respiratory Therapist, Alex Lickerman MD, and Franz Wiesbauer MD & CEO of Medmastery for helping in thinking through this problem, pointing out specific tradeoffs and areas of concern which have been reflected in revisions to this article.
[Medmastery is a medical professional continuation company that is granting medical providers treating COVID-19 patients free access to cross-training for medical professionals on how to operate a ventilator and work in an ICU-like environment. Department heads can request a fee waiver for up to 20 people in their department here.]
About Me
By day, I work as a CEO coach in the Software as a Service (SaaS) industry. I work with fast-growing technology startups to create and operationally handle surges in customer demand. I'm the author of Extreme Revenue Growth and The Recession-Proof Business.
By "night," I volunteer as an emergency worker in Kitsap County, WA. I've trained in mass-casualty incidents, basic life support emergency medical response, and search & rescue.